Six of One, Half a Dozen of the Other features a selection of Idea Fund supported projects. We were selected as 2013 Idea Fund recipients for our upcoming documentary film Tía Chuck. Since we're currently in production on Tía Chuck, we are screening our short documentary film Justin Boyd: Sound and Time to represent our documentary work. Six of One, Half a Dozen of the Other includes works on view at DiverseWorks, Project Row Houses, and Aurora Picture Show. Read more about the series of exhibitions and screenings.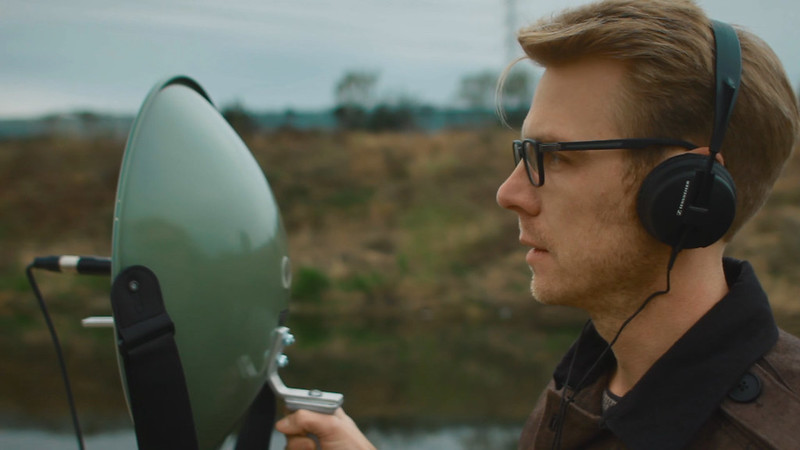 Video Still: Justin Boyd: Sound and Time
Aurora Picture Show Screenings
Saturday, June 28th at 7pm
2442 Bartlett St.
Houston, Texas 77098
Angela and Mark Walley (Walley Films), Justin Boyd: Sound and Time (2013 Idea Fund): In this short documentary, artist Justin Boyd, Department Chair of Sculpture and Integrated Media at Southwest School of Art, shares his connection with sound and how he uses it to create original works of art.
Madsen Minax, My Most Handsome Monster (2013 Idea Fund): This work documents two separate BDSM scenarios and morphs the landscapes in which they take place. The scenarios collide with archival family footage, landscape meditation, and voice over narration to suggest a state of suspended engagement and a gesture toward collective histories and imagined futures.
Kara Hearn, The Need for Grand Emotion (2009 Idea Fund): In this series of staged dramas reminiscent of classic anxiety dreams, 30-year old Will inexplicably finds himself back in high school trying to win the approval of a group of girls. In scenarios ranging from mundane and pathetic to violent and absurd, the character and video work together self-consciously to squeeze authentic experience and emotion from the most artificial and mediated of circumstances.
Stephanie Saint Sanchez, selections from Señorita Cinema (2013 Idea Fund): Señorita Cinema, founded by filmmaker Stephanie Saint Sanchez, is Texas' first all Latina film festival, with the goal of presenting the rich tapestry of voices, styles, and ideas unique to the Latina experience.
Potter-Belmar Labs (Leslie Raymond and Jason Jay Stevens), Thirteen Views in Arid Lands (2010 Idea Fund): This series of 360-degree scrolling Southwestern American landscape videos was shot in time-lapse, using robotic technology designed, built, and programmed by PBL. Texts that appear in the videos were borrowed from and inspired by the reports and journals of U.S. soldiers seeking the last free Apaches in the Southwest in the 1880s, as well as quotations from the Apaches themselves.
-M&A